Key Factors to Consider Before Installing a Fence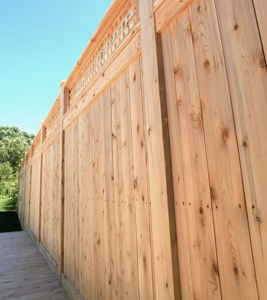 Fencing is a great idea, and it has a multitude of benefits. They add aesthetics to your premises, increases the property value and makes the place safe. But installing the fence needs some amount of planning. If you have the layout sorted, permit in hand, then half of the work is done. Installing a fence requires some basic preparation. In this blog, we will be unveiling certain factors that you must take into account if you are planning to install a fence.
Tips To Follow:
Measurement– Before you go ahead, the first thing that you must do is take the measurement of your premises. Well, it must be done properly because accordingly, you are going to place an order for the fence.
The objective of fencing- Why do you want to install a fence, people may have different reasons for the same. For example, some may want to install it to amp up the look of their premises, some may want to have privacy, while others may have both the reasons. Based on it, you can choose the type of fencing you want. For example, if you are aiming at security, then you would need a fence made of steel or wrought iron which is sturdier and deter the burglar from bargaining in your premises. If you are unsure of the same, you can contact any Southlake Fence Contractors
Getting the permit- We have already mentioned this point. Before installing a fence in your premises, it is important that you must check if there is any local permit which is required. In Southlake, you must check with the authority what kind of fencing is allowed, the height of the fence etc. In case you are not sure about it, you can seek the help of professional roofing companies like Southlake Tx Roofing Pro, who know about the legalities of fencing and rules associated with it.
Height of the fence– One of the first thing that you need to check is the height of the fence, and it should be in adherence to the local permits and laws. Once you have cross-checked with the authorities, the next step is to choose the height of the fencing; it can be 5-feet or 4-feet depending on your choice.
Conclusion- You cannot rule out consultation with your neighbour. Since they will be sharing the fence with you, it is a good gesture to consider their view. In case you have a fence and notice some damage, its not necessary that you must go for the replacement, you can also avail the Southlake fence repair who will do the work. Besides, hiring a professional company will help in proper fence installation.